International Freight Forwarding Company
NEW SERVICE
Weekly groupage shipments between Armenia and Russia, warehouses in Yerevan and Moscow. Tel: +374 55 94 94 94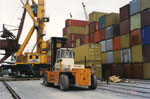 "APAVEN" is a big Freight Forwarding company in Armenia and abroad. "APAVEN" company has its offices, technical and human resources in key transportation points, e.g. Poti, Tbilisi, Novorossisk. This ensures its consistent and effective work not only in Armenia, but also abroad.
The distinctive feature of our company is that it's orientated towards future, i.e. it attempts to be several moves ahead of time to put into life any desires of a client.
During many years of its activity our company has formed customer's trust due to:
Professionalism of the personnel,
Proper structural organization,
Experience of the company managers, who master the work specifics and nuances in the given area.
The company functions as a single organism, imbued with the general idea of doing work as a well-knit team. The integral parts of the company are independent, having the right for initiative, the possibility to maneuver, meantime being responsible to the Company for their activities. The corporate spirit of the company is supported by the idea of serving the common goals, reproducing and nurturing cadres whom work experience and skills will be passed on and who will carry the philosophy of the company in the future.